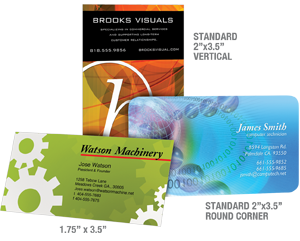 The first impression potential clients receive is from your business card.
It needs to be as unique as your business and convey the image and message you need to present in this fast-changing world.  Grand Rapids Print Shop business cards can present the image you want and the impact you need with our award-winning quality and affordable pricing.
There is no second chance for a first impression.  Nobody knows your business better than you and nobody better understands your message. You can design your own business cards taking advantage of our Design Center where you can browse through thousands of background templates and choose from thousands of images. You can upload your own logo or artwork and design your business card at your convenience from your home or office computer using simple, easy steps to creating the perfect business card for you.
Grand Rapids Print Shop Business Cards offer:
High quality full color offset printing
Nine different business card sizes including standard 2×3.5
Three paper stock options
Gloss or UV coating options available
Specialty rounded corners available
Recent Posts
"Business cards still work as well as they have worked for 300 years," said Moo.com founder Richard Moross Heard the one about business cards being dead in the digital age? Moo.com founder and chief executive Richard Moross laughs. "The good news is that they still work as well as they've worked for 300 years," he says. […]
It's greatly accepted that a business card reflects the identity of an organization. It's not bad to think that business cards are effective marketing tools for all those business houses – large or small. Hence, it is important that the designer and printer accord maximum significance while working on company cards. Powerful marketing can only […]
A business card is the quickest form of advertising. The quality of your card says something about you. The sense of touch is very powerful and should not be overlooked as many people will hold a business card while talking thus creating a mental image of what type of person you are. When you are […]
You are handed two business cards by two different people for the same type of business. One is a black and white unadorned business card with simply the basic information on the front side. The second is a glossy, colorful business card with more than simply the basic information such as additional phone numbers to […]
Designing a business card is no easy task. You want to make sure that your business card looks unique and well planned. Your business card should stand out and not stick out like a sore thumb. It should make an impression and stand out from the rest. Do not compromise simplicity and style for uniqueness […]